Ever heard of Refer-a-Friend? Not like this you haven't! With Wirex, it's smarter, more innovative; a unique opportunity to get paid in Bitcoin for spreading the word about Wirex to your friends and family.
If you're a seasoned Wirex user, you already know all about our industry-leading service:
Buy, store and exchange BTC, LTC, ETH and XRP securely and safely
Instant currency exchange between GBP, EUR and USD at bank-beating rates
Instantly convert crypto to GBP, EUR or USD and spend with the Wirex Visa card
Use your Wirex Visa card in-store, online and at ATMs – anywhere Visa is accepted
Earn Cryptoback™ rewards – 0.5% in BTC on in-store purchases*
Don't keep the good news to yourself. Introduce others to Wirex's revolutionary features and we'll reward you – and the person you refer – with up to $10 ($5 for non-EEA users) in Bitcoin.
Invite your friends to join Wirex now!
The full Refer-a-Friend programme is currently only available to Wirex users in the EEA (click here for a list of countries where Wirex Visa cards are available). If your country is not on the list, hang in there. We're rolling out Wirex Visa cards in many more territories around the world, so it won't be long before everyone can enjoy the full $10 reward.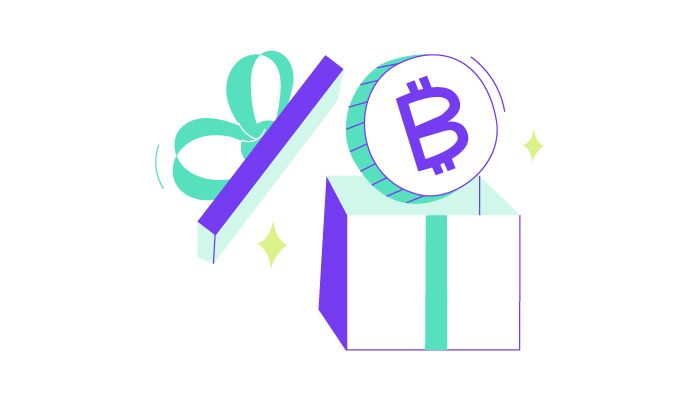 Here's how Refer-a-Friend works:
Step 1
Go to the Rewards section of the app to get your unique referral link and share it with as many friends as you like.
Step 2
Once signed up, your friend must complete verification (two steps – simply upload your photo ID and a selfie).
Step 3
As soon as your friend has bought £/$/€100 of BTC, LTC, ETH or XRP through Wirex, we'll give you $5 worth of BTC each
Step 4
Your referee orders a contactless Wirex Visa Card (GBP, EUR or USD, plus free delivery!)*
Step 5
We'll treat you both to another $5 of BTC once your friend makes their first in-store purchase using their Wirex Visa card*
*EEA users only.
There's no cap on the number of referrals you can make – your potential profits are limited only by the size of your contacts list!
Your BTC rewards are stored in the Reward section of the app as Satoshis, a subunit of Bitcoin. These Satoshis can be instantly redeemed into your Wirex Bitcoin wallet. What you do with it after that is entirely up to you: convert it into GBP, EUR or USD to spend immediately on your Wirex Visa card, or store it in your BTC wallet to grow your crypto portfolio. Your money, your choice!
Invite people to join Wirex today!
For full terms and conditions, please click here.